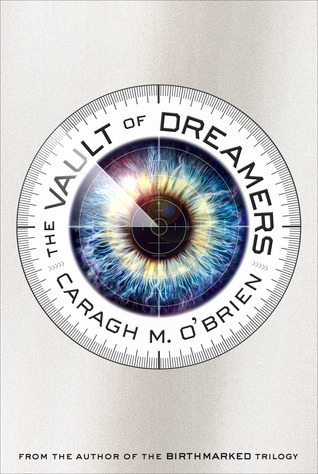 Publisher: September 16, 2014 by Roaring Books
Pages: 432
Series: Untitled #1
"
From the author of the
Birthmarked
trilogy comes a fast-paced, psychologically thrilling novel about what happens when your dreams are not your own.
The Forge School is the most prestigious arts school in the country. The secret to its success: every moment of the students' lives is televised as part of the insanely popular Forge Show, and the students' schedule includes twelve hours of induced sleep meant to enhance creativity. But when first year student Rosie Sinclair skips her sleeping pill, she discovers there is something off about Forge. In fact, she suspects that there are sinister things going on deep below the reaches of the cameras in the school. What's worse is, she starts to notice that the edges of her consciousness do not feel quite right. And soon, she unearths the ghastly secret that the Forge School is hiding—and what it truly means to dream there.

"
So after I had read the book, I saw a friend's tweet that accurately described the plot for The Vault of Dreamers. So naturally I had to screen shot it and tweet about it, and then this happened.
#HappyShawnee
Anyways, I really enjoyed this book. I did have my doubts when I first started reading mainly because no one else seems to have heard of this book. But I'm SUPER glad that I read it!
There were many concepts of this book that I thought were well done. I liked that the author had the idea to use the Reality TV fad and bring it into a book. Reality TV is DOMINATING the world right now. Everyone knows who the Kardashians are and who the judges on The Voice are this season. Reality TV is just something that has become insanely popular within the past 10 years. O'Brien takes this idea and fuses it with a school setting. It is a reality competition to see who will make the cut at The Forge School.
I thought Rosie was a very good main character. She had enough drive, but still a sense of morality which became extremely important through the course of the book. The plot would not have worked if Rosie was any different. She was just bold enough, just smart enough, just driven enough, and just compassionate enough to make the whole book work. However, sometimes she just makes insanely stupid decisions that make me want to grab her shoulders and shake them violently and yell 'WHYYYYYY" in her face really loudly. But then again, all teenagers are kind of dumb sometimes.
The rest of the characters were all well written. For once, the love interest of the main character had doubts! Instead of just taking what the main character said as law or the truth, the supporting characters, especially Linus, Rosie's beau, were often skeptical of Rosie. #ThankYouLinus . IT WAS AMAZING! And this was what led me to being skeptical or Rosie myself...
And I liked that eventually, even as a reader, I began to doubt Rosie. I really, really liked it! Towards the end I wasn't even sure if she was telling the truth or making it all up. I would not put it past an author to give us a twist like that! It made me feel like I was really right there with Rosie every step of the way!
And the ending was insane! I have no idea what happened and I want a sequel with some answers RIGHT NOW!!!
In the end, I thought this novel was extremely good and I think everyone should read it! It was tense, and mysterious, and current. Though I would have liked some of the science stuff to be explained so a five year old could understand, that was my only complaint. I give this an 8/10 and recommend that you go pick up The Vault of Dreamers by Caragh M. O'Brien right now!
-Shawnee Smith