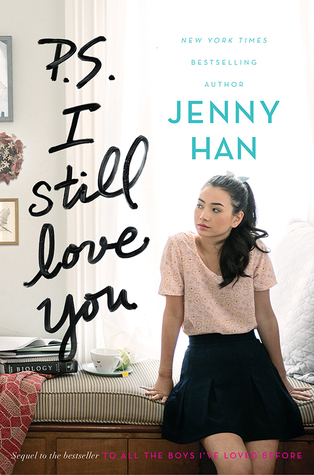 Publisher: 26 May 2015 by Simon & Schuster Books for Young Readers
Series: To All The Boys I've Loved Before #2
"
Lara Jean didn't expect to
really
fall for Peter.
She and Peter were just pretending. Except suddenly they weren't. Now Lara Jean is more confused than ever.
When another boy from her past returns to her life, Lara Jean's feelings for him return too. Can a girl be in love with two boys at once?
In this charming and heartfelt sequel to the

New York Times

bestseller

To All the Boys I've Loved Before

, we see first love through the eyes of the unforgettable Lara Jean. Love is never easy, but maybe that's part of what makes it so amazing.

"
This was the first book that I read after being released to summer vacation and I couldn't have chosen a better book! It was funny and sweet and incredibly well written!
P.S. I Still Love You picked up where the first installment left off. Peter and Lara Jean are fighting and its not certain if their relationship will be mended. This is a theme throughout the whole book. Lara Jean and Peter fight...a lot. It started to bug me.
One aspect of this novel that I really liked was the game of Assassins. I've actually played it before but with different rules so it was fun to see it in a book. I think it would be exciting to play it on that large of a scale over that long of a time period. The game just added a different element to the story than what other books have and it was highly enjoyable.
This book was predictable, but that doesn't mean it was bad. I actually really liked reading this book and seeing more of Lara Jean's life. I almost wish that there were more!
If you haven't yet, you should definitely read the To All The Boys I've Loved Before series by Jenny Han. You will not be disappointed! I promise!
-Shawnee Smith