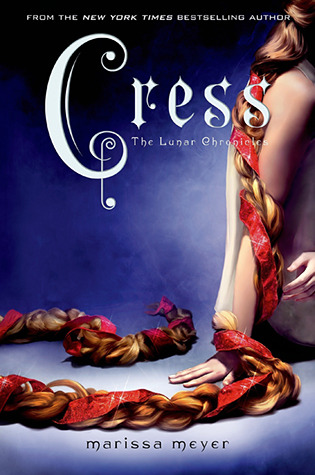 Publisher: 4 February 2014 by Feiwel & Friends
Pages: 550
Series: The Lunar Chronicles #3
"I
n this third book in the Lunar Chronicles, Cinder and Captain Thorne are fugitives on the run, now with Scarlet and Wolf in tow. Together, they're plotting to overthrow Queen Levana and her army.
Their best hope lies with Cress, a girl imprisoned on a satellite since childhood who's only ever had her netscreens as company. All that screen time has made Cress an excellent hacker. Unfortunately, she's just received orders from Levana to track down Cinder and her handsome accomplice.
When a daring rescue of Cress goes awry, the group is separated. Cress finally has her freedom, but it comes at a high price. Meanwhile, Queen Levana will let nothing prevent her marriage to Emperor Kai. Cress, Scarlet, and Cinder may not have signed up to save the world, but they may be the only hope the world has.

"
It's about time I wrote this review. So, Cress is the third installment of The Lunar Chronicles (you can check out my review for
Cinder here
and
Scarlet here
). This book throws in a new character, Cress (AKA Rapunzel), a Lunar shell who has been forced to live alone on a satellite doing the technological bidding of Queen Levana since she was a kid. Cress gets in contact with Cinder and everything goes haywire during a botched rescue attempt.
Despite the added POV's, I really liked this story. I thought Cress was an interesting character to bring in and she was made even more interesting by her attachment to Carswell Thorne. She is a good asset to have when it comes to the technology and you can also get a good sense of the other characters through her non-biased feelings. Her thoughts about the other characters made them seem more deep, like they are not shallow (Do you get what I'm saying? I hope you do because it's an important point).
One of my favorite parts in the whole book was Cinder realizing how many people will stand behind her. Not just those that are Lunar, but those that are human and believe that the Lunars do not pose a threat. I think it boosted her confidence a lot. Look out for that scene when you see it.
There are quite a few plot twists in the book, some of them are unfortunately predictable. 'Unfortunately' because I could tell that they are supposed to be big bombs that is supposed to rock your world. Yeah, I had my hunches about those ones.
You know that reunion that I was hoping would happen in this book, the one between Cinder and Kai, yeah it happened. And I am so happy because it is everything that I wanted it to be and more. I wont say anything further so I don't spoil any of the plot, but it was so awesome and I'm laughing just thinking about it!
But I want to know what happens next! There are so many unanswered questions! Like what will happen with Scarlet? Will they all stop Queen Levana? I want to know! Marissa Meyer, write faster!
I definitely recommend that you read The Lunar Chronicles by Marissa Meyer sometime soon! You will not be disappointed!
-Shawnee Smith