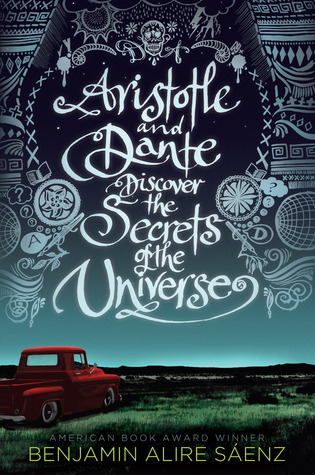 Publisher: 21 February 2012 by Simon & Schuster Books for Young Readers
Pages: 368
Series: N/A
"

Aristotle is an angry teen with a brother in prison. Dante is a know-it-all who has an unusual way of looking at the world. When the two meet at the swimming pool, they seem to have nothing in common. But as the loners start spending time together, they discover that they share a special friendship—the kind that changes lives and lasts a lifetime. And it is through this friendship that Ari and Dante will learn the most important truths about themselves and the kind of people they want to be.

"
LOVE LOVE LOVE LOVE LOVE LOVE LOVE
What else can I say other that I FREAKING LOVE THIS BOOK!
I have been hearing quite a bit of talk about this book, especially since it has won a ton of awards! Knowing all of that, I went in with my expectations very high........and this book surpassed even my highest expectations! It's rare that a book does that.
Aristotle And Dante Discover the Secrets of the Universe is an absolutely beautiful book that I believe everyone must read once in their lifetime. It tells the story of a young, misunderstood boy growing up and trying to discover who he is. Along the way, he makes a lifelong friend who is having just as hard of a time at life as him. Together, these two boys go on an incredible journey.
I was never disappointed with this book. Yes, it was slightly predictable in the end, but getting there was a roller coaster that I did not mind riding all the way to the very tippy top. It was honest, and raw, and everything that you could want in a novel.
I'm not going to say anything else and let you all just go and read this beautiful, amazing, one of a kind book for yourselves.
-Shawnee Smith