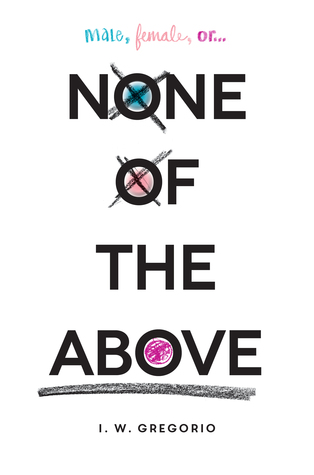 Publisher: 7 April 2015 by Balzer + Bray
Pages: 352
Series: N/A
"
A groundbreaking story about a teenage girl who discovers she was born intersex... and what happens when her secret is revealed to the entire school. Incredibly compelling and sensitively told, None of the Above is a thought-provoking novel that explores what it means to be a boy, a girl, or something in between.
What if everything you knew about yourself changed in an instant?
When Kristin Lattimer is voted homecoming queen, it seems like another piece of her ideal life has fallen into place. She's a champion hurdler with a full scholarship to college and she's madly in love with her boyfriend. In fact, she's decided that she's ready to take things to the next level with him.
But Kristin's first time isn't the perfect moment she's planned—something is very wrong. A visit to the doctor reveals the truth: Kristin is intersex, which means that though she outwardly looks like a girl, she has male chromosomes, not to mention boy "parts."
Dealing with her body is difficult enough, but when her diagnosis is leaked to the whole school, Kristin's entire identity is thrown into question. As her world unravels, can she come to terms with her new self?

"
Representation. Matters.
I'm so happy we live in an age where it is starting to be okay to be who you truly are and not have to put on a mask everyday just to survive. I'm glad that people are (albeit slowly) being educated about what makes people different inside and out.
I wont sit here and preach about how good this novel is representing the struggle those that are intersex go through, because I don't know what it's like to be intersex. However, I do believe that this novel is great at showing the world that people who are intersex are no different than everyone else.
I enjoyed getting into Kristin's mind and following her through this journey. I was getting so mad at the people who were so ignorant! I just wanted to scream "Let her be! She's not hurting anyone!" The fact that I was rooting for Kristin is a testament to Gregorio's writing and creating of amazing characters.
I have been waiting to read this book for quite some time and I was not let down at all. This book could have easily been something where the author tries to talk about a controversial topic and then shys away from it without really addressing it. But Gregorio did an AMAZING job with this story and with the topic.
I highly, HIGHLY recommend that everyone read this book and pass it along! Make your younger sister read it, make your dad read it, put it in your local Little Free Library. Get this book out there!
-Shawnee Smith