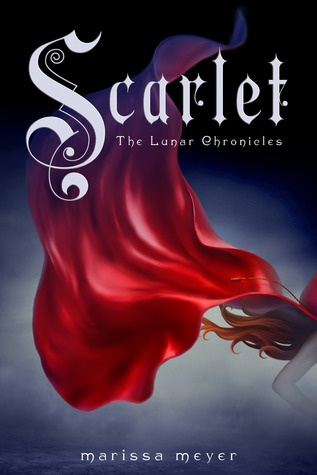 Publisher: 5 February 2013 by Feiwel and Friends
Pages: 452
Series: The Lunar Chronicles #2
"

Cinder, the cyborg mechanic, returns in the second thrilling installment of the bestselling Lunar Chronicles. She's trying to break out of prison--even though if she succeeds, she'll be the Commonwealth's most wanted fugitive. Halfway around the world, Scarlet Benoit's grandmother is missing. It turns out there are many things Scarlet doesn't know about her grandmother or the grave danger she has lived in her whole life. When Scarlet encounters Wolf, a street fighter who may have information as to her grandmother's whereabouts, she is loath to trust this stranger, but is inexplicably drawn to him, and he to her. As Scarlet and Wolf unravel one mystery, they encounter another when they meet Cinder. Now, all of them must stay one step ahead of the vicious Lunar Queen Levana, who will do anything for the handsome Prince Kai to become her husband, her king, her prisoner.

"
I have to tell you, when I first read Cinder (Lunar Chronicles #1), I was scared that the sequel would not pick up with Cinder's journey, but rather move on to something else entirely. I am so incredibly glad that was not the case. While this book did tell another person's story, it did flip back and forth so the readers could know what is going on with Cinder.
This book focuses on Scarlet Benoit, a french girl who is looking for her missing grandmother. Everyone says that Scarlet's grandmother just ran off, but Scarlet believes she was taken. She will go on a crazy adventure where she will meet new people with questionable morals all to find her grandmother. If you couldn't tell, this is a retelling of Little Red Riding Hood. Meyer even goes so far as to have Scarlet wear a red hoodie all the time. I really like Scarlet as a character. She is incredibly tough, I mean she walks around with a gun in the waistband of her jeans. You have to be tough if you have had the experiences that Scarlet had when she was younger.
One other new character that was introduced that I actually found myself drawn to as I was reading was Carswell Thorne: a womanizing fugitive that escaped prison with Cinder. He is different than all of the other characters that we meet in this story and it is refreshing for him to be there offering a different dynamic to the story.
I did like this book, but I liked it less than I liked Cinder. I think there was just so much going on in this book (and not a whole lot of it intertwined until the end) that it was hard for me to keep up with. Especially with all of the chapters changing perspectives. Meyer did a good job by stating whose perspective it was right at the beginning of the chapter, but it just jumped around SO much.
I will definitely keep reading this series. I do want to know what is going to happen next and I am eager to find out. The one thing that I am most looking forward to is Cinder and Kai reuniting! I really hope that happens in the next book! It will be a crazy scene to read. I hope it delivers.
In the end, Scarlet by Marissa Meyer was a fantastic sequel. The fight scenes were tense, the revelations were mind blowing, and the over all story was enchanting. I loved every page. I definitely recommend that you read The Lunar Chronicles by Marissa Meyer.
-Shawnee Smith