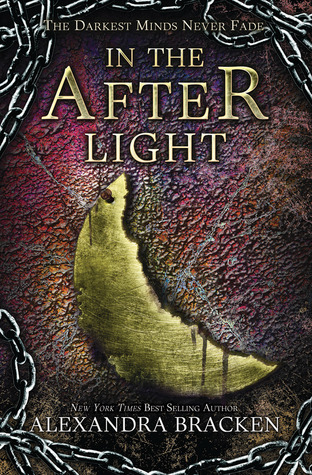 Publisher: 28 October 2014 by Disney-Hyperion
Pages: 535
Series: The Darkest Minds #3
"
Ruby can't look back. Fractured by an unbearable loss, she and the kids who survived the government's attack on Los Angeles travel north to regroup. With them is a prisoner: Clancy Gray, son of the president, and one of the few people Ruby has encountered with abilities like hers. Only Ruby has any power over him, and just one slip could lead to Clancy wreaking havoc on their minds.
They are armed only with a volatile secret: proof of a government conspiracy to cover up the real cause of IAAN, the disease that has killed most of America's children and left Ruby and others like her with powers the government will kill to keep contained. But internal strife may destroy their only chance to free the "rehabilitation camps" housing thousands of other Psi kids.
Meanwhile, reunited with Liam, the boy she would-and did-sacrifice everything for to keep alive, Ruby must face the painful repercussions of having tampered with his memories of her. She turns to Cole, his older brother, to provide the intense training she knows she will need to take down Gray and the government. But Cole has demons of his own, and one fatal mistake may be the spark that sets the world on fire.

"
So this is the third (and final) installment of The Darkest Minds series. I have been waiting so incredibly long to get this book and devour it! Once I got it, it didn't matter that I had a final to study for, I put everything off and read this book immediately! And it was totally worth it.
There was only one or two parts of this story that I didn't really like. One was a death, I didn't think that the death was good enough for the character (I won't say who so you can keep reading). However, I am happy that Bracken was able to sacrifice important characters in order to keep the story going. It's never realistic when every major character makes it out of a war alive and well.
The other part of the story that I didn't really like was all of the fighting between Ruby and Liam. Yes, it was warranted on his part because she erased his memories in the first book, but they didn't have to fight, then make out, then fight some more, and then make out again. It was tiring keeping up with their feelings of one another.

The rest of the book was amazing! I loved it from beginning to end! I almost wish it was longer just so I wouldn't have to part with this world. It's always sad when a really great story comes to an end.
I really liked that Bracken brought back Thurmond. We only got to see a small glimpse of the camp during the first book but it was constantly stated that Thurmond was one of the worst and you could see Ruby's fear of it. I thought it was a good plot point bring that Camp back into the story. Doing so really shows how much Ruby has grown as a person in the short time since she was able to escape.
I really don't know what else I can talk about without giving away too much of the plot. I really thought this was a great book and a good ending to the series. It was everything that I wanted it to be. If you have not read The Darkest Minds series by Alexandra Bracken, you are missing out. I highly suggest you go pick up these books and read!
-Shawnee Smith