I just went out and bought...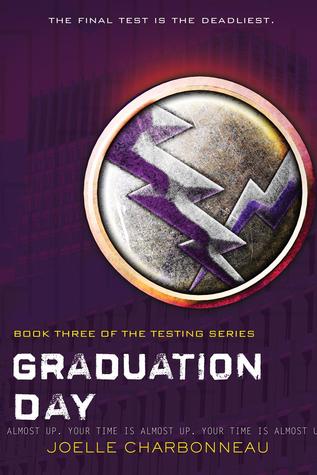 What It's About:
"
In book three of the Testing series, the United Commonwealth wants to eliminate the rebel alliance fighting to destroy The Testing for good. Cia is ready to lead the charge, but will her lethal classmates follow her into battle?
SHE WANTS TO PUT AN END TO THE TESTING
In a scarred and brutal future, The United Commonwealth teeters on the brink of all-out civil war. The rebel resistance plots against a government that rules with cruelty and cunning. Gifted student and Testing survivor, Cia Vale, vows to fight.
BUT SHE CAN'T DO IT ALONE.
This is the chance to lead that Cia has trained for - but who will follow? Plunging through layers of danger and deception, Cia must risk the lives of those she loves--and gamble on the loyalty of her lethal classmates.
The stakes are higher than ever-lives of promise cut short or fulfilled; a future ruled by fear or hope--in the electrifying conclusion to Joelle Charbonneau's epic Testing trilogy. Ready or not…it's Graduation Day."
What I Think So Far:
I'm on about page 100 and so far I feel a little iffy about the plot line. First off, I forgot what happened in the sedcond instalment, Independent Study, so I was confused for the first 20 pages or so. And right now I'm just having a hard time getting into the story.
*SPOILER*
Cia is not a killer so I find it hard to believe that she is so willing to sign up to kill 13 people. That's about as far as I have gotten. Oh, also I feel that Tomas isn't as important in the second and third installments and he was in the first. Maybe this is to show the choices Cia will make on her own without anyone's help? I don't know. I will continue to read and post a review when I am done.
Check out my reviews of The Testing (
here
) and apparently I never did one for Independent Study. I'm slacking. Make sure you read those two before picking up Graduation Day!
-Shawnee Smith