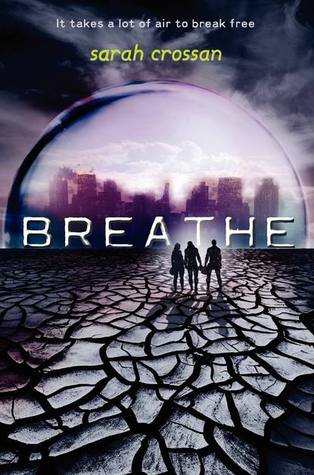 What It's About:
"
The world has no air. If you want to survive, you pay to breathe. But what if you can't? And what if you think everything could be different? Three teens will leave everything they know behind in Sarah Crossan's gripping and original dystopian teen novel of danger, longing, and glimmering hope that will appeal to fans of Patrick Ness and Veronica Roth.
Ever since the Switch, when the oxygen levels plummeted and most of humanity died, the survivors have been protected in glass domes full of manufactured air. Protected . . . or trapped? Or controlled? Alina's a revolutionary who believes we can save the environment. Quinn's a Premium who's never had to worry about having enough air. His best friend, Bea, is an Auxiliary who's never worried about anything but having enough air. When the three cross paths, they will change everything. Sarah Crossan's thrilling and provocative novel is about passion, about yearning for something better, and about breaking free for the very first time.
"
What I Think So Far:
I really like it. Though the beginning did remind me of the first few pages of AVALON by Mindee Arnett, the similarities end there. I find all of the characters that have been introduced are extremely likable and you want to root for them in every aspect of their life. There is already a love triangle developing and its making me a little mad that the guy is so freaking dense. The premise is also great and like nothing I have read. I definitely recommend this book so far, even though I'm only about a third of the way through.
-Shawnee Smith