"
A heart-stopping story of love, death, technology, and art set amid the tropics of a futuristic Brazil.
The lush city of Palmares Três shimmers with tech and tradition, with screaming gossip casters and practiced politicians. In the midst of this vibrant metropolis, June Costa creates art that's sure to make her legendary. But her dreams of fame become something more when she meets Enki, the bold new Summer King. The whole city falls in love with him (including June's best friend, Gil). But June sees more to Enki than amber eyes and a lethal samba. She sees a fellow artist.
Together, June and Enki will stage explosive, dramatic projects that Palmares Três will never forget. They will add fuel to a growing rebellion against the government's strict limits on new tech. And June will fall deeply, unfortunately in love with Enki. Because like all Summer Kings before him, Enki is destined to die."
"
Natalie Sterling wants to be in control. She wants her friends to be loyal. She wants her classmates to elect her student council president. She wants to find the right guy, not the usual jerk her school has to offer. She wants a good reputation, because she believes that will lead to good things.
But life is messy, and it's very hard to be in control of it. Not when there are freshman girls running around in a pack, trying to get senior guys to sleep with them. Not when your friends have secrets they're no longer comfortable sharing. Not when the boy you once dismissed ends up being the boy you want to sleep with yourself - but only in secret, with nobody ever finding out.
Slut or saint? Winner or loser? Natalie is getting tired of these forced choices - and is now going to find a way to live life in the sometimes messy, sometimes wonderful in-between."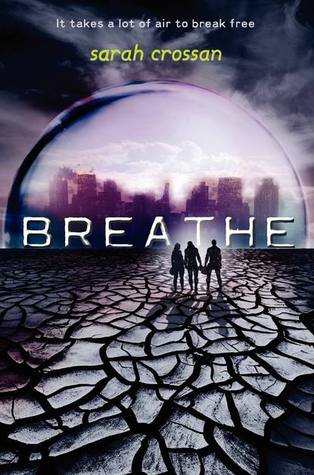 "
The world has no air. If you want to survive, you pay to breathe. But what if you can't? And what if you think everything could be different? Three teens will leave everything they know behind in Sarah Crossan's gripping and original dystopian teen novel of danger, longing, and glimmering hope that will appeal to fans of Patrick Ness and Veronica Roth.
National Book Award Finalist Kathleen Duey called
Breathe
"An amazing story! Sit down. Inhale. Now, while you still can." Ever since the Switch, when the oxygen levels plummeted and most of humanity died, the survivors have been protected in glass domes full of manufactured air. Protected . . . or trapped? Or controlled? Alina's a revolutionary who believes we can save the environment. Quinn's a Premium who's never had to worry about having enough air. His best friend, Bea, is an Auxiliary who's never worried about anything but having enough air. When the three cross paths, they will change everything. Sarah Crossan's thrilling and provocative novel is about passion, about yearning for something better, and about breaking free for the very first time.
The Bulletin of the Center for Children's Books
proclaims it an "action-packed dystopian series opener to watch out for.""
-Shawnee Smith