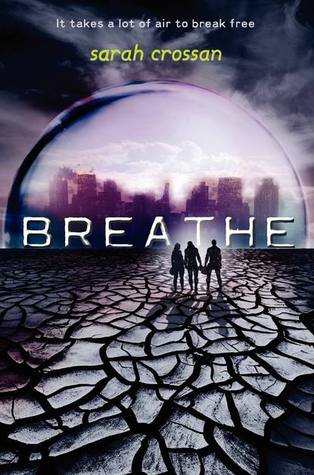 Publisher: October 2, 2012 by Greenwillow
Pages: 384
Series: Breathe #1
"
The world has no air. If you want to survive, you pay to breathe. But what if you can't? And what if you think everything could be different? Three teens will leave everything they know behind in Sarah Crossan's gripping and original dystopian teen novel of danger, longing, and glimmering hope that will appeal to fans of Patrick Ness and Veronica Roth.
Ever since the Switch, when the oxygen levels plummeted and most of humanity died, the survivors have been protected in glass domes full of manufactured air. Protected . . . or trapped? Or controlled? Alina's a revolutionary who believes we can save the environment. Quinn's a Premium who's never had to worry about having enough air. His best friend, Bea, is an Auxiliary who's never worried about anything but having enough air. When the three cross paths, they will change everything. Sarah Crossan's thrilling and provocative novel is about passion, about yearning for something better, and about breaking free for the very first time.

"
This book has been on my to be read list for quite some time, I mean, you can see the original publication date. It is sad that it has taken me this long to read it, thought I'm glad I finally did.
The first thing that grabbed me about this book was the plot: there is hardly any breathable air in the atmosphere. In order to continue the human race, everyone lives inside a giant bubble where they have to pay for air. Everything changes for best friends Quinn and Bea when they help a terrorist escape from the dome. From there they learn the secrets about the Earth and the ones that officials in the dome are keeping to themselves.
I'm not sure how I felt about all of the characters. Sometimes I felt that their actions were not true to their characters. That they were just pawns for the author to move around however she saw fit to make her plot work. This might not be true for everyone's interpretations but it was how I felt.
I am glad that Quinn finally manned up and realized that he liked Bea though. I don't think I would have liked it if he started going after Alina. Yeah, I really wouldn't have liked it.
Also, I think the ending came way too quickly. It was almost too easy for everything to end up the way it did. I will have to read the next novel to see how it all turns out.
Though some parts of the book I didn't like, I do think Breathe by Sarah Crossan should be on your to be read list. There are some good questions posed and the overall plot was fantastic.
-Shawnee Smith