The Treatment by Suzanne Young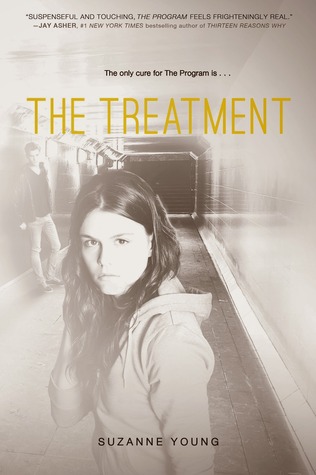 Publisher: 2014 by Simon & Schuster
Pages: 344
Series: The Program #2
"Sloane and James are on the run after barely surviving the suicide epidemic and The Program. But they're not out of danger. Huge pieces of their memories are still missing, and although Sloane and James have found their way back to each other, The Program isn't ready to let them go.
Escaping with a group of troubled rebels, Sloane and James will have to figure out who they can trust, and how to take down The Program. But for as far as they've come, there's still a lot Sloane and James can't remember. The key to unlocking their past lies with the Treatment—a pill that can bring back forgotten memories, but at a high cost. And there's only one dose.
Ultimately when the stakes are at their highest, can Sloane and James survive the many lies and secrets surrounding them, or will The Program claim them in the end?"
I am a huge fan of the first book in the series, The Program (Check out my review here), so obviously I had really high hopes for this book. And ultimately, I felt let down. Sometimes you get a story where the sequel has a different tone than the original and it works, but this one didn't. To me, the tone did not feel authentic. I didn't feel the struggle or the hurt of the characters as I was reading.
It has also been quite some time since I read the first novel and I was often confused as I was reading. Since in the last novel
*SPOILER*
the main character lost all of her memories, it was hard to piece together some of the plot that the readers should know but the main character doesn't. Since the book was not written in 3rd person, there were often parts where I had to guess about the plot and hope I was right.
The three important characters from The Program, Sloane, James, and Realm, are once again in the story. They keep the same form of story arc they had in the previous novel. Sloane and James love each other and try to work out their issues but Realm gets in the middle of it because he loves Sloane. Nothing new there. But there were two new important characters that were introduced. Cas and Dallas, best friends and kick ass members of the rebellion. These two just shake things up and cause problems for the main characters, example: betrayals and seduction.
One aspect of this novel that I really enjoyed was that the rebellion was not this huge organization that has everything figured out that leads to the antagonist's downfall. The rebellion was really just a few dozen teenagers spread across the country who get nothing done except hide in safe houses and recruit new members. It was a fresh take on something that exists in most dystopic/adventure novels.
My absolute favorite part of this novel was the last two pages. It was so freaking adorable! So when you read this book make sure that you look out for that and don't skim ;)
All in all I think this novel had some good aspects and some bad. I think it deserves a 7.5/10. I wish it was higher though! And just FYI, I believe this was only a 2 book series. The final chapters had a sense of finality to it. I will be on the lookout for anything that contradicts that statement though.
-Shawnee Smith