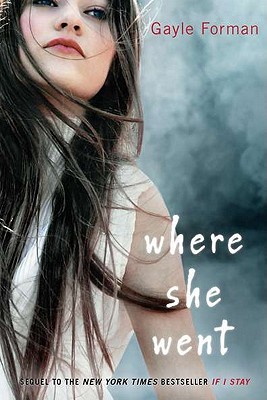 Publisher: 2011 by Dutton Juvenile
Pages: 264
Series: If I Stay #2
"It's been three years since Mia walked out of Adam's life.
And three years he's spent wondering why.
When their paths cross again in New York City, Adam and Mia are brought back together for one life-changing night.
Adam finally has the opportunity to ask Mia the questions that have been haunting him. But will a few hours in this magical city be enough to lay their past to rest, for good - or can you really have a second chance at first love?"
First off, LOVED THIS BOOK! I liked that it was told from Adam's point of view this time instead of Mia's. It gave the book its own separate tone from that of the first one and it worked. There were so many genius one lines that had me laughing my butt off! Then there were moments ten pages later that had me wanting to break out into tears. It was just that good.
I liked that Adam had kinda gone down a dark path. Not like killing people or anything like that, but drugs, cigarettes, random women. To me it felt as it was all because he was lost without Mia. Now, you can disagree but that it just how I felt. There was also a mystery to what happened with the band. Adam is on the outs with them and you have to slowly unravel what is going on with all that. It gives the book more dimensions than just old flames reuniting, which is a really good thing.
One aspect that made this book believable was that it was hard for Adam and Mia to find anything to talk about at first. It was a struggle for them, people who used to be able to talk about anything, to even hold a simple conversation about the weather. Slowly over time you see that although these two have grown so much apart, they still fit together perfectly. Though the whole novel I was rooting for Adam and Mia to make it work again.
All in all, this was a great novel on its own. Added with what If I Stay was, this series is just absolutely amazing. I don't think I have ever come across anything near what this series it, and its a good thing. I don't think a lot of writers would have been able to write two heart-wrenching novels one in the POV of a girl and the second in the POV of a male. Forman did it perfectly though. I give the whole series 5 stars, 10/10, two thumbs up, however you want to rate it. :)
-Shawnee Smith