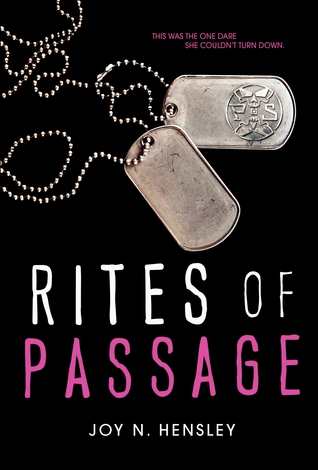 Published: 9 September 2014 by Harper Teen
Pages: 416, Hardcover
Series: N/A
"Sam McKenna's never turned down a dare. And she's not going to start with the last one her brother gave her before he died.
So Sam joins the first-ever class of girls at the prestigious Denmark Military Academy. She's expecting push-ups and long runs, rope climbing and mud-crawling. As a military brat, she can handle an obstacle course just as well as the boys. She's even expecting the hostility she gets from some of the cadets who don't think girls belong there. What she's not expecting is her fiery attraction to her drill sergeant. But dating is strictly forbidden and Sam won't risk her future, or the dare, on something so petty...no matter how much she wants him.
As Sam struggles to prove herself, she discovers that some of the boys don't just want her gone—they will stop at nothing to drive her out. When their petty threats turn to brutal hazing, bleeding into every corner of her life, she realizes they are not acting alone. A decades-old secret society is alive and active… and determined to force her out.
Now time's running short. Sam must decide who she can trust...and choosing the wrong person could have deadly consequences."
This was the first book that I read after my hiatus due to that thing we all call school, and I have to say that I chose wisely.
First off, Sam McKenna is a BAD ASS! Though most of the book's plot is about boys and men thinking that she cannot keep up with the rigorous demands of this elite military academy, she shows them up all. the. time. If you are looking for a great role-model, you should seriously consider Sam. She is one tough, fearless girl and I applaud Hensley for writing Sam just the way she is.
I liked the pace of this book. Nothing happened too quickly and all of the events in the book were placed though out a school year. So many novels will have three days of terrible events be the whole book, and I like the ones that take the time to develop the characters over longer periods of their life.
The other characters that surround Sam are the ones that really make the story work. Drill, Sam's brother - Johnathan, and Kelly are the best in my opinion. You never really know what is going on in their heads or what their motives are.
The one thing I did have a problem with this novel was the whole "secret society" thing. I thought at times it became too much. Like it was this giant conspiracy for Sam to no longer be at DMA and it didn't feel realistic to me. Also, I thought Dares were going to be a bigger part of the plot since the synopsis says that Sam can't turn down a dare. The only one she gets (and she doesn't even get it in the novel, but in the past) was to go to DMA and finish the first year. I thought it would have been interesting to have more dares though the book.
I immensely enjoyed this novel. I thought the character were incredibly well written and I thought the story was fresh and new. I give this book 4 out of 5 stars and definitely recommend it!
-Shawnee Smith