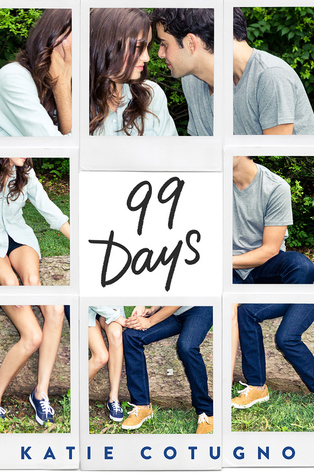 Publisher: 21 April 2015 by Balzer + Bray
Pages: 384
Series: N/A
"
Day 1: Julia Donnelly eggs my house my first night back in Star Lake, and that's how I know everyone still remembers everything—how I destroyed my relationship with Patrick the night everything happened with his brother, Gabe. How I wrecked their whole family. Now I'm serving out my summer like a jail sentence: Just ninety-nine days till I can leave for college, and be done.
Day 4: A nasty note on my windshield makes it clear Julia isn't finished. I'm expecting a fight when someone taps me on the shoulder, but it's just Gabe, home from college and actually happy to see me. "For what it's worth, Molly Barlow," he says, "I'm really glad you're back."
Day 12: Gabe got me to come to this party, and I'm actually having fun. I think he's about to kiss me—and that's when I see Patrick. My Patrick, who's supposed to be clear across the country. My Patrick, who's never going to forgive me.

"
I have been slowly making my way through this book whenever I got the chance to have a little time for non-academic reading. Let me just say right now if someone tells you to take an American Nobel Laureates class, don't. It wont be fun. At all.
On the topic of 99 Days, I really enjoyed this book. It got me out of my head when I needed it to, and that is what I want in a book like this. The plot of 99 Days is not all that complicated, girl is dating boy, girl sleeps with boys brother, whole world finds out, girl runs away, girl comes back for summer before college and all hell breaks loose.
I enjoyed the characters. While I did not agree with all of their choices (keep it in your pants everyone!) nor did I like all of their personality traits, however, I did enjoy the fact that the characters stayed true to who they were. There was not this whole bullshit revelation two thirds of the way through the book and everyone forgave each other and they all skipped off into the sunset holding hands.
While there was some closure and forgiveness, not everyone was happy in the end and I think that would be true in real life if this really happened.
I highly suggest reading 99 Days if you haven't already. It is a perfect summer read. So go grab some lemonade and hit the pool to work on your tan and make your way through this book.
-Shawnee Smith
P.S. I agree with Molly on every decision regarding her mom, I mean, who does that kind of thing?! I mean if you're going to base a book off of someone's life, CHANGE EVERYTHING. Don't pull a Dan Humphrey (yes, I just made a Gossip Girl reference) and make it so obvious that everyone knows who the characters are based on. Be a decent person.